The De-TAILS
Our self-service dog wash includes:
Elevated Tubs
High-Velocity Dryers
Waterproof aprons
Shampoo's of your choice
We offer Water Proof Collars, so no more stinky wet dog smell. Check out our selection while visiting the retail store.
Don't you love the way your dog looks, feels, and smells after a day of grooming!? Keep them looking and smelling great all the time... Sign up for The Downtown Dog Wash Dirty Dog Rewards: Get rid of the smell and reap the rewards! All Washes are $17.00.

Organic Dog
Lime & Coconut Pet Shampoo with Omega 3 & 6 nourishes their skin to effectively reduce shedding and provide a deep refreshing clean. Pomegranate and awapuhi help remove excess hair and eliminate tangles – while oatmeal and coconut keep her skin and coat healthy and happy.



Dazzling Dog
Alpha White Shampoo is an effective stain remover and coat brighter that can be used regularly for show ring results giving your dogs coat a cotton fluffy feel!


Dirty Dog
Get the dirt out with our Grimeinator Shampoo for dogs and cats. Remove even the toughest grime with this professional formula, deep-cleaning pet shampoo. Leaves coats soft, manageable, and lustrous.

Day to Day Dog
Berry & Coconut Deep Clean Shampoo for dogs and cats cleans, revitalizes, and conditions without harsh chemicals. Formulated with peach, papaya, and strawberry to give coats a lustrous shine.
Included:
Fluffy towels
Automated temperature-controlled warm water
High velocity, pet-safe dryer
An assortment of grooming tools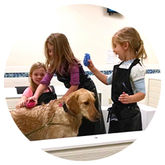 Self-Service Dog Wash
Our self-service dog wash permits you to stand in comfort at the dog washing station, and we provide all the things needed to give your dog a professional wash.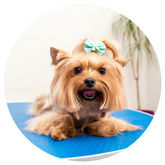 Dog Laundry
You take away a spotless dog, and our staff tend to the mess and laundry.
Come visit our self service dog wash & pet supply store in Cleveland, TN specializing in animal nutrition, treats, and supplies for cats and dogs.